Curious how to get your target audience's attention so they interact with your brand posts? One way is to make use of effective CTAs! What's a CTA you ask? Read on to find out more! (See what we did there? 😀)
A CTA or a call to action is used to drive users or customers to do what they should be doing with your business — to buy, shop, subscribe, sign up, and many more action words with the intention to drive your business sales and/or engagement. This is considered a critical and powerful part of any content your business will provide to your customers. It can take up different forms such as:
On-screen

This is mostly seen in videos as it conveys a story that will initiate action from your audience.

Button

A simple highlighted part of your website or email that is usually accompanied by a strong tagline or copy.

Anchor text or hyperlink

Mostly seen in blogs (like this blog!).

Simple text

Usually seen in captions on different social media channels to start a conversation with your audience.
The simple act of putting a call-to-action can boost your conversions based on your marketing goals. It could be a successful sale, a scheduled call, or an app download.
Influencers utilize the act of adding a simple CTA on their Instagram posts and benefit from it greatly as it initiates conversations with their followers; hence, their engagement rates go up. This is something you should definitely do as well since increasing engagement on Instagram raises awareness of your business. Let's look at the PopStar Instagram as an example.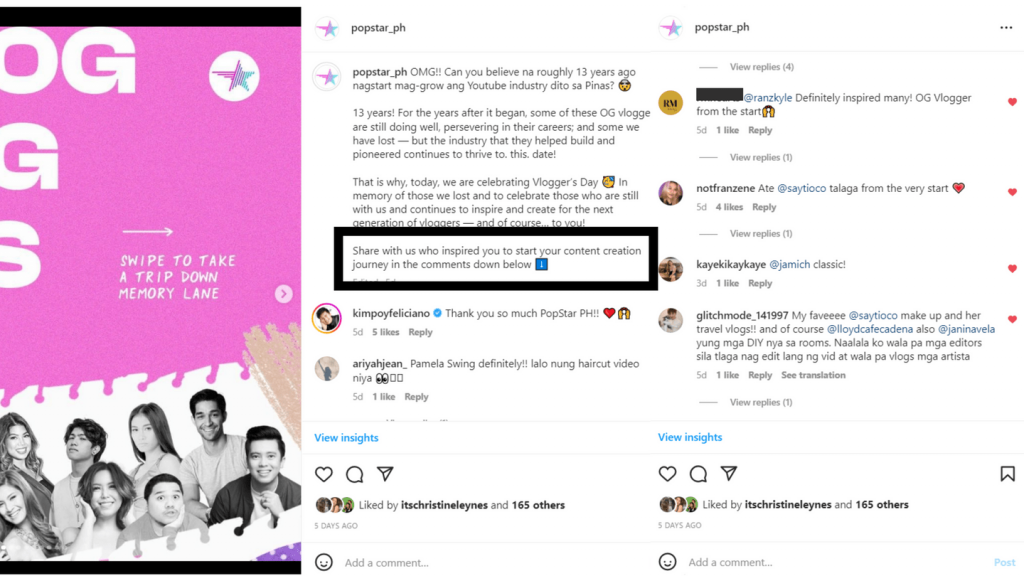 Adding a simple and concise CTA at the end of the caption sparked a conversation with our followers.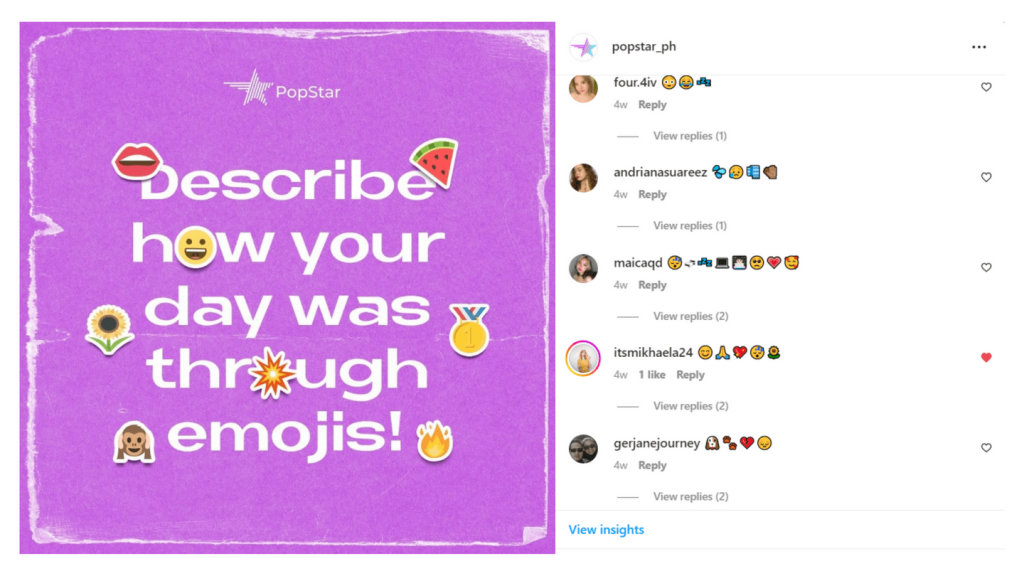 This can be an example of an on-screen or visual CTA. We encouraged PopStar followers to describe how their day was using emojis in the comments section and we took a guess!
How To Write A Powerful CTA
1. Use strong action words
Start your call-to-action with strong command words that will let your audience know what you want them to do. Words like buy, share, comment, subscribe, learn more, etc. will usually drive them to do exactly what you want them to do. The examples presented above are the perfect example of this as they all start with strong action words.
2. Keep it simple and compelling
When writing a CTA, you need to provide your customers and audience with clear and compelling directions. This goes along with using strong action words in your call to action. Keeping it simple is also crucial so as to avoid visual clutter and make the life of your potential customers easier — it's all about user experience.
3. Pique their curiosity and urgency
Curiosity often spurs action and that's what we want to take advantage of. Depending on the information you're giving your customers, you should be able to angle it in a way where they would be curious and inevitably do exactly what is said on the CTA.
Along with this, creating a CTA that consequently creates a sense of urgency but does not border on being pushy is a powerful and magical step. That being said…
Visit www.pop-star.me or email our Account Group Head at jamie.garcia@pop-star.me for more information on how PopStar Philippines can help you start your Influencer Marketing strategy today 😉