Last April 2022, Ysera Skin launched its campaign to raise awareness for its Azelaic Foam Wash, Salicylic Spot Gel, and its services with the help of PopStar Philippines and its partner influencers.
There were two different campaigns put into place. One is for the influencers to use and review Ysera Skin products and the other is for influencers to experience the different Ysera Skin services. Both of these campaigns got an astounding result of a combined average of 10.26% Engagement Rate for both Nano and Micro-influencers
How were we able to do it? Here's what you need to know!
Content-Type
When creating an influencer marketing campaign, it's important to determine what type of content and what communication angle will be needed from your influencers. Is it going to be an IG post with a photo of them and your product and logo? Is it going to be a natural, non-hard-sell type of short vlog for their TikTok accounts? It could be anything, but there are things to consider:
What platform does your target audience usually use
What type of content is generally liked by your target
Is your goal to engage with the audience or solely to raise awareness, or both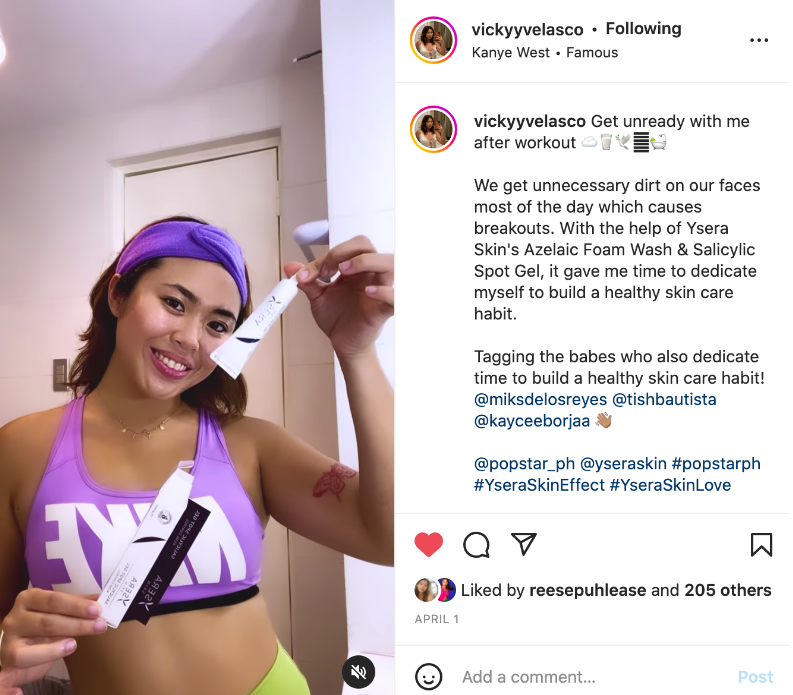 PopStar Tip: Tiktok or Instagram? Both platforms are well-loved by the mass and both platforms provide short-form videos for users. Depending on the goal and how far along the engagement will be taken, you can choose between these platforms and what type of content will be needed for the campaign. If you want your influencers to feature your product, go with an Instagram post. If you want them to create a video that shows their experience with your service, opt for a TikTok post.
Micro or Nano?
Now that you've chosen what type of content you want, another important choice to make is what type of influencers you want to work with. There are 4 types of influencers: mega, macro, micro, and nano. Since you're launching a campaign for brand engagement, you want to steer clear from mega and micro-influencers because, despite their huge following, their engagement rates and brand trust and loyalty are relatively low.
This allows us to focus on choosing between micro and nano influencers, but what is the difference? Aside from both of them having around 500 to 100k followers, both have relatively higher engagement rates than the rest — especially for nano influencers. So, how do we choose? Let's base it on the numbers.

There were 30 different micro and nano influencers tapped for the Clearly It's Ysera Skin campaign. All of them are to create an Instagram post and an Instagram story. It's quite obvious that micro-influencers have larger total followers, hence a larger reach than nano-influencers. But surprisingly, nano-influencers have a higher engagement rate than micro-influencers.
PopStar tip: For brand awareness, reach out to micro-influencers. For engagement purposes, reach out to nano influencers.
Although there is little to no difference between these 2 types of influencers, this decision can make or break your campaign so picking the right influencers is equally important as establishing your goals.
Up The Game: Let your KOL experience your service
Not every company has a service or a procedure you can have your influencers experience, which is understandable but you can up the game by having an event with them; or if you're a company that has a service that they can experience, you can choose to up your game by allowing your influencers to show it to their followers essentially developing credibility for your brand.

For Ysera Skin x PopStar, we had a 5G Whitelase Launch Event where our influencers were able to achieve:
Credibility to Ysera Aesthetics through consistent brand recognition and entertaining content in the TikTok platform
Built awareness through a relatable content angle
Engaged on an authentic level by providing important information about the brand
Built audiences' trust by the influencers featuring first-hand experience of Ysera Aeshtetics' equipment and procedure
This campaign involved creating an Instagram and a TikTok post which were all well-received with a whopping Total Reach and Engagement of 500,000+!
PopStar tip: If you have a service or procedure, let your influencer experience it. If you don't and you have products to endorse, host an event for and with them — we can help you with that!
PopStar Wrap Up
The numbers alone, for this campaign, speak for themselves. It was a successful campaign to create and raise brand awareness. To recap, here's what you need to know:
Consider what type of content will your influencers create: Instagram for higher engagement, and TikTok for higher reach.
What type of content creators do you want? Micro-influencers for brand awareness, nano influencers for engagements. You can have a mix of both for optimal results.
Let your influencers experience the brand, may it be through a service or procedure you provide or through an event.
Now that you know all these and you want to start your campaign, email us at contact@pop-star.me for more information on how PopStar Philippines can help you in your Influencer Marketing today.