Before the age of social media and the internet, businesses used to throw big launch parties and buy advertising spaces in newspapers or magazines in order to spread the word about their brand. Now, you can do this just by heightening your brand's social media presence (it does not end at creating a social media account!). Here are five content ideas to make your brand's social media pages always pop up on your followers' feed!
1. Holiday content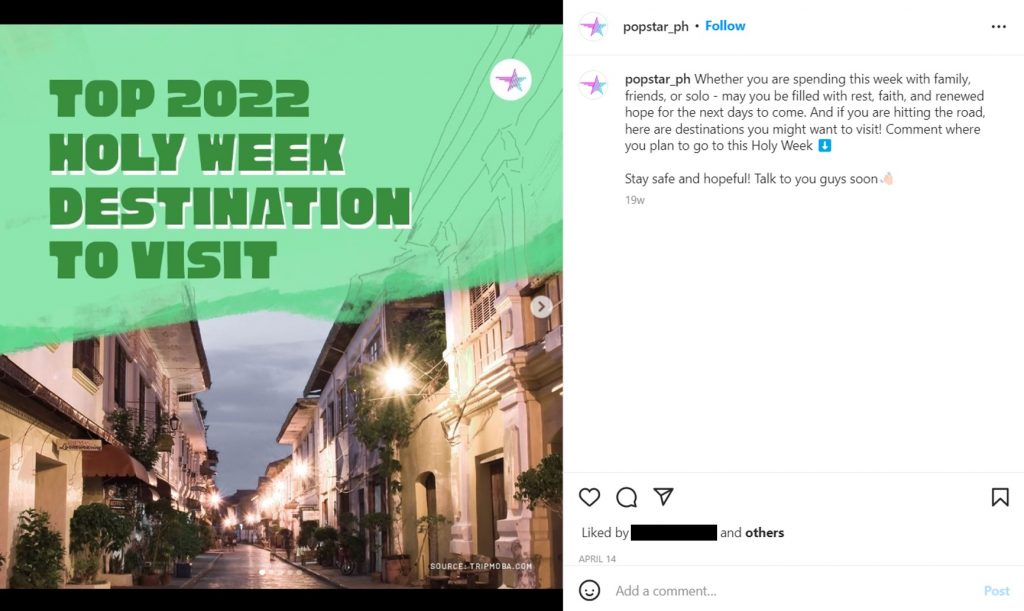 May it be a huge holiday such as Christmas or something minor like National Siblings Day, it's always a good idea to post about it! Greeting your followers a Happy Mother's Day or Happy Valentine's Day can never go wrong. In fact, doing so adds relevance to your brand because you are creating adaptive content.
To make a holiday post better, add a quick call-to-action in the caption and in the publicity material to increase post engagement. It does not need to be fancy — it can be as simple as the one in the PopStar post above, "Comment where you plan to go this Holy Week".
2. Giveaways or raffles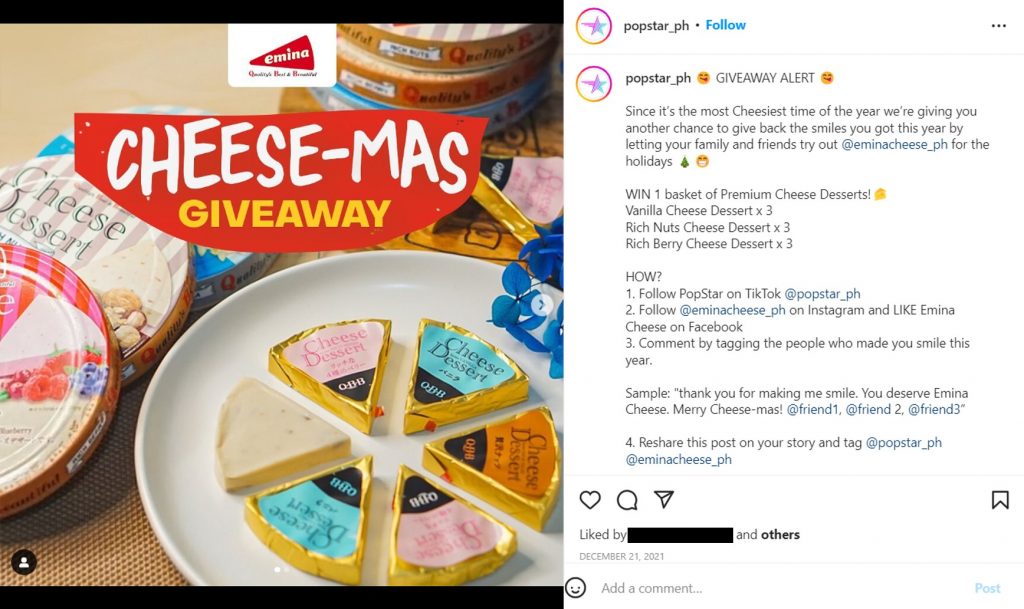 Nobody can resist something when it's free! This is why online giveaways & raffles are such an effective tool to raise brand awareness and bring in more followers or likes to your social media accounts. The prizes need not be that extravagant, just enough for people to be interested and take their chance. Craft the mechanics of your giveaways such that it will bring new followers or likes to your page. A classic example is to have participants encourage 3 of their friends to join the raffle as well by mentioning them in the comment section. You can also make giveaways and raffles a regular content of your page (e.g. quarterly giveaways) so that your followers/likers will have a reason to check your page regularly.
PopStar tip: If you have an influencer that is promoting your brand, have them share the giveaway post to attract more participants and users to check out your page.
3. Gamified content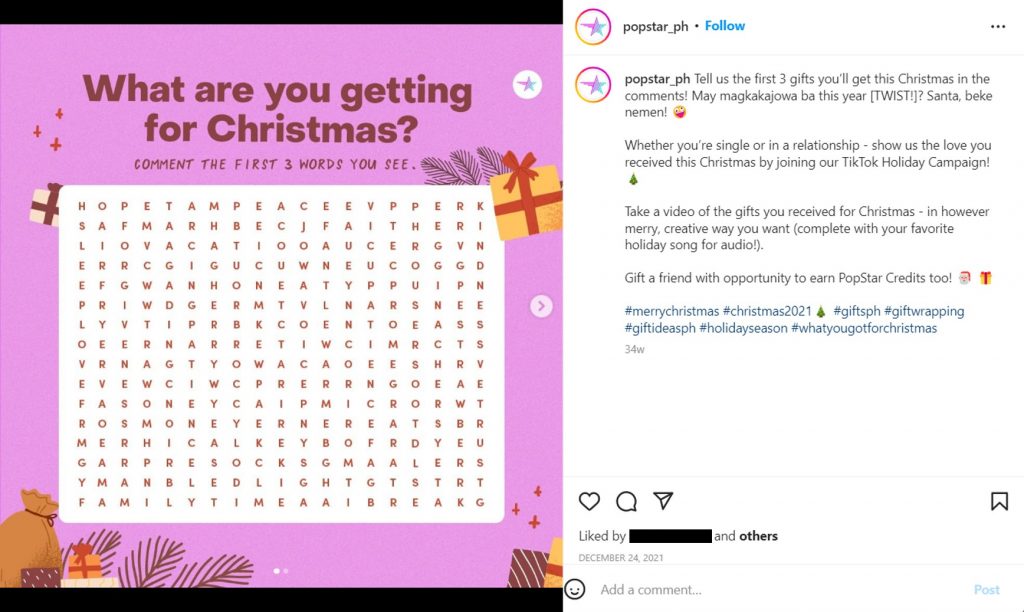 Gamified content refers to posts with game-like elements incorporated into it. People are naturally attracted to these posts because they are entertaining, challenging, and fun.
The game is just a way to present, but the content must still be about your brand. In the example above, PopStar is encouraging people to join their TikTok Holiday Campaign which involves filming the gifts they have received for Christmas. Since the topic is about Christmas gifts, the word search is about finding three words — the three gifts!
Aside from word search, you can also try working with game show-type multiple choice questions, guess the word, 4 pics 1 word, and maze puzzles.
4. Testimonials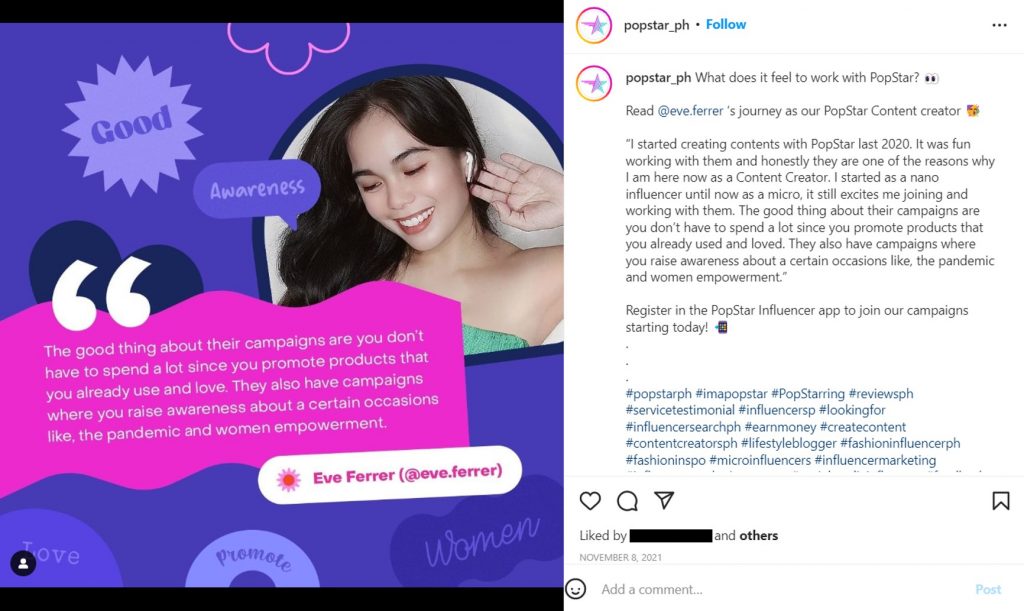 Customers nowadays are smarter and wiser — they do not readily believe what the brands say regarding their products. This is where testimonials come in. Testimonials are a special type of statements specifically written in support of a product, service, or a brand in general. The product reviews in e-commerce platforms are one example of this. In fact, if you have your products up in an e-commerce platform, you can use the reviews you have there to be posted in your social media page. Testimonials are an effective way not just to promote brand awareness, but more importantly, to build reputation and credibility for your brand. Hence, posting testimonials are a must for every business!
In addition, if you're currently in the middle of an influencer marketing campaign, you can ask the influencers you hired to write a short review regarding your products. You can use this as the content of your next testimonial post, affirming the quality of your products. This adds an extra level of credibility because the testimonial came from an influencer — not just from anyone, but someone who has gained the trust of their followers.
5. Hop on a popular subject or trend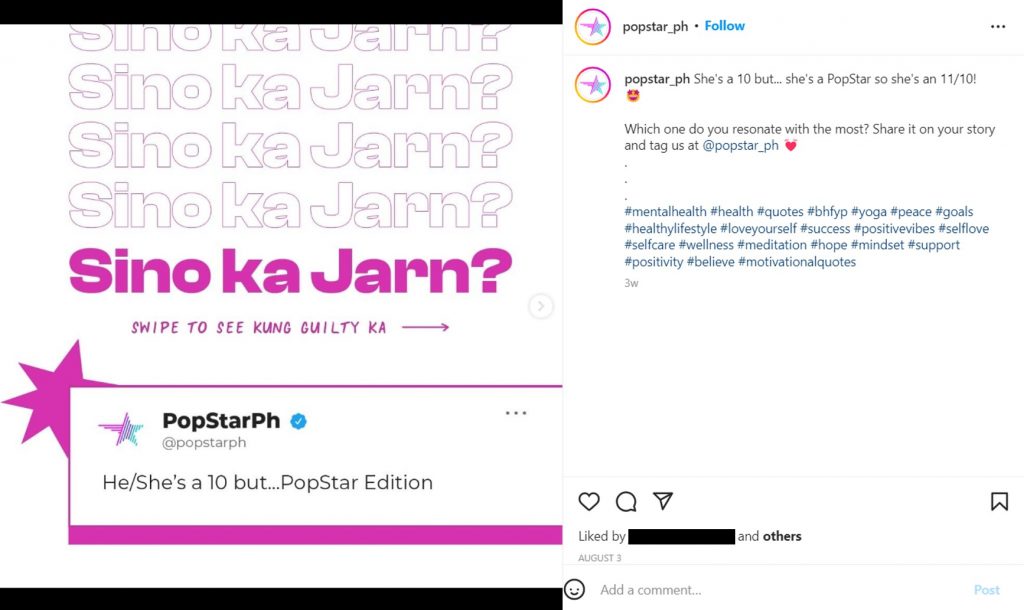 This is another reason to stay up-to-date with the current internet trends! Whether that's a new video format from TikTok, a phrase popularized by Gen Z, or a newborn meme — be creative and bring your brand into the trend! Hoping on something currently trending uses the popularity of that subject in order to introduce your brand to more people. Being able to relay the message of your brand using a meme is not only a smart move, but also a chance to show off the creativity and wit of your marketing department!
Leveraging viral trends translates into higher engagement rates (i.e., more likes, comments, shares, and/or views) as well, because you made your content relatable to more audiences. And, who knows, this strategy might also gain you some new likers and followers!
Conclusion
Brand awareness is one of the first campaigns your business should be doing. Specifically, an online brand awareness campaign not only attempts to introduce your business to more people, but it also encourages engagement between your brand and your audience. The more active your social media accounts are, the more chances there will be for people to interact with your content, and eventually, the more likely they are to buy from your business. So hey, keep those posts coming!
Final PopStar tip: Include your logo in all your publicity materials in social media to raise brand familiarity and make people recognize your business anywhere.
---
Visit www.pop-star.me or email our Account Group Head at jamie.garcia@pop-star.me for more information on how PopStar Philippines can help you start your Digital Marketing strategy today.